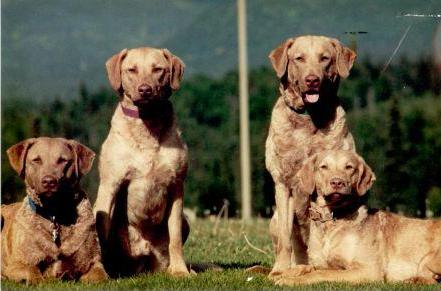 Nuka Bay Chesapeakes (Alaska) welcome you to our website and invite you to learn more about us. Pictured above from left to right are Shemya (our first Chesapeake) and first born sons Kobuk and Tok and daughter Kiska.

We are owner/trainer/handlers and currently compete in obedience, rally, agility, conformation and hunt tests with goals of adding tracking.

We are members of the:
American Chesapeake Club (since 1985)
Alyeska Canine Trainers (Charter member, 1986)
Alaska Kennel Club
Arctic Streakers Agility Club (Charter member)
Retriever Club of Alaska
Alaska Working Retriever Club

Lynda Barber-Wiltse and Larry Wiltse

Photo credits belong to friends and photographers: Joe Bishop, Randi Hirschmann, David Ramey and David Jensen/Alaska Pet-ography. Thank you for the great memories!